January 2017 Market Update Evergreen South
It's going to be another great year in Real Estate! The Evergreen South market is already heating up. 8 Properties sold last month, ranging from a hefty $5.4 million dollar sale in the Timbers to a $290,000 sale in Marshdale (which was an auctioned property). The home in the Timbers started at a price tag of well over $18 million dollars a few years back. This was the original home in The Timbers, which boasts over 32 acres, an equestrian center, a pool, a wine cellar and over 10,000 sq. feet. The price has been dropping over the years, and finally the sweet spot was found when it closed at $5.4 million. Sounds like someone got a great buy!
There are currently 11 active listings - a large equestrian estate in Craigmont at 4.2 million all the way down to a new listing at 6885 Marshmerry which is priced at $300,000. This house is sure to sell fast at this price!
8 properties contracted last month, the most expensive of which being 7116 Timbers Drive . This listing on Timbers Drive is the least expensive house in the neighborhood, and though it needs some updating, it has great curb appeal and that Mountain Chalet feel that foothills buyers love.
As in the previous year, the hot button price range for Evergreen Meadows seems to be between $500 - $600, and between $400 - $500 for Craigmont and Valley Hi. Buyers in Evergreen Highlands will pay more for views, and several homes in that neighborhood contracted for well over $600,000.
We typically see a surge of listing in April and May - but there are plenty of buyers out there now! If you are considering selling your home, there is no better time than the present to list.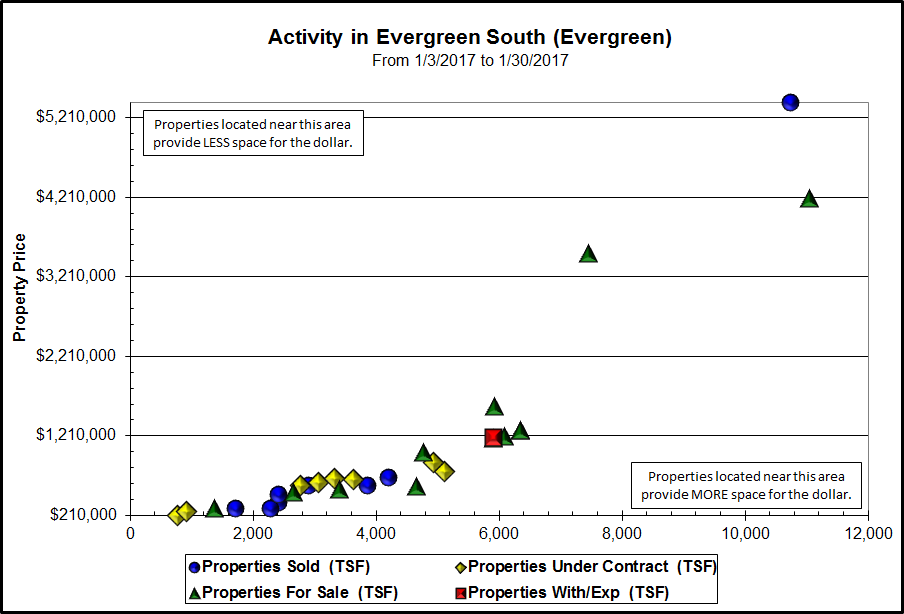 These are all the homes in Evergreen between $400,000 to $700,000
[search:https://evergreen-real-estate.com/search/city:Evergreen/price-min:400000/price-max:700000]