Nationally, Home Sales are Up and Prices are Down: What Now?
Home sales are up.
Despite our typical seasonal slow down in Evergreen. In February, total home sales in the U.S. rose 14.5% from the month prior. That jump ended a 12-month streak of declines in national home sales, and it's the largest percent increase since July 2020. The sale of new construction homes has also increased, with numbers up for the third straight month in February.
Inventory, or the number of homes available on the market, is still low in most areas, and mortgage rates are still high—so why are home sales spiking now? While 14.5% feels like a large increase and does indicate a change in the market, it's important to note that sales are still down year-over-year. Low affordability and low inventory drove sales down dramatically last year, so the increase we're seeing now is more of a correction than a true spike.
Home prices are coming down.
The National Association of Realtors also just reported that home prices have dropped 0.2% year-over-year. I see that our median price per square foot is down in Evergreen 5.1%. That doesn't necessarily reflect values declining however. Statistically the sample is relatively small and can be influenced by a higher frequency of low sales and the absence of a few high $/sf sales.
Less than one percent or even 5%? Why does that matter ? That number may not seem like a lot, but it's significant because it's a departure from a consistent stream of price increases. This is the first time in almost 11 years that home prices have shown an annual decrease.
Does that mean the market is going to crash? Not quite.
Driven by the ultra-low inventory and extreme demand of pandemic-era homebuying, home prices recently reached all-time highs. The current decrease may simply be a correction from those sky-high prices, a relaxation of extremely tight market conditions—and a result of high mortgage rates.
But what's to prevent prices from continuing to drop—and even heading into crash territory? Inventory across the country remains low. There's only a 2.6-month supply of homes in the U.S. at the current rate of sale, compared to the balanced-market benchmark of a 6-month supply. Additionally, mortgage rates are starting to come down, which will increase buyer competition. Generally, those two factors drive enough demand to prevent a severe drop in home prices.
In Evergreen we'll begin climbing out of the typical, very low inventory months of February and March in the next few weekends but overall we still have remarkably low inventory!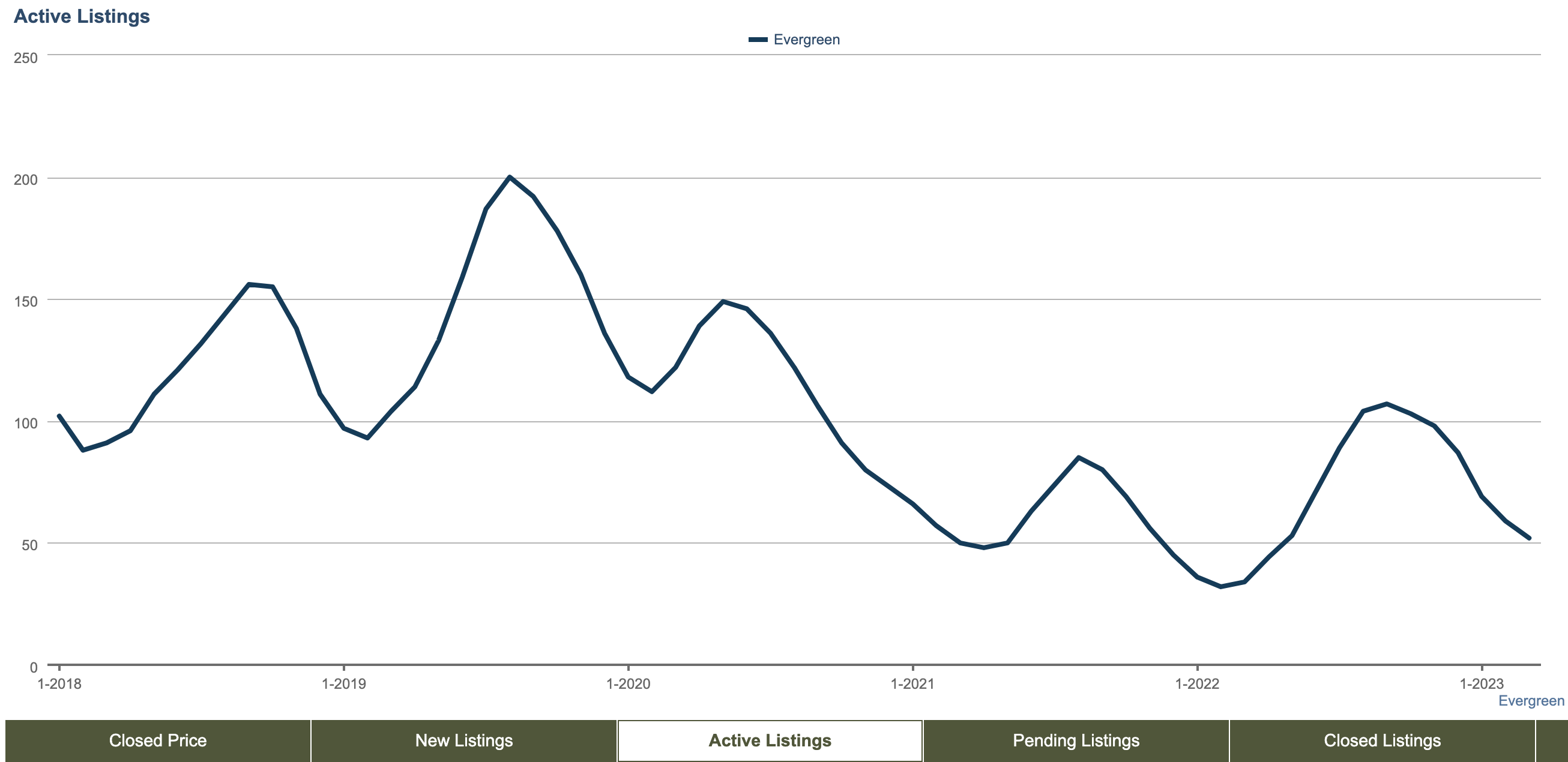 What does that mean for you? It depends on where you live, and whether you're looking to buy or sell. In some regions, prices are dropping even faster while in others, prices are holding steady (or even continuing to climb).
In fact several recent sales in Evergreen have closed at significantly higher than list price--even when those list prices were accurate relative to recent comparable sales.
Should you jump into the real estate market now?
The answer to that question is complex and depends largely on your personal situation.
Overall, buyers should take advantage of slipping mortgage rates and dropping prices. If your finances are in order and you're ready to buy your dream home, low inventory shouldn't stand in your way—and if you have the right real estate agent, it won't. Just remember, if you want to buy now, you'll need to come in with a strong offer and be ready to negotiate.
Selling a home? Let's do it. As mortgage rates come down, buyers who have been sitting on the sidelines will jump in, and it will be easier for your real estate agent to find the perfect match for your property. Remember, Evergreen still favor sellers and most sellers have seen their home values skyrocket, your expectation for your sale price should be even better this year than it might have in 2021 or 2022. What's the perfect price to attract buyers? Let's talk about it since price is only part of the equation and marketing Evergreen homes makes a huge difference over simply counting on Zillow and the MLS!
We've got this.
Navigating the real estate market amid shifting conditions and recession fears can be tricky, but we've got your back. Whether you're looking to buy, sell, or you just want to know what your home is worth these days, get in touch. We can't wait to make your goals a reality.
Let's Go