How to Navigate the Shifting Housing Market In Evergreen
In just one week's time we saw the frenzy in the Foothills slow down! I launched a listing on Skyline in Evergreen in the second week of June and we had a steady stream of home buyers walking the property before the open house, a full weekend of showings (50+) and about a dozen quality offers above list price with refined terms. One week later, after Wednesday's interest rate debacle I launched a similarly priced home on Sunlight in Conifer and only had 5 offers! It's undeniable that the real estate market has been hot over the last couple of years, with low inventory across the boards and high competition among buyers. However, the market now seems to be making a shift. After three years, the inventory of homes for sale has finally increased for the first time since June 2019, with newly listed homes up 6.3% nationally compared to a year ago.
It's still a seller's market right now, but for how much longer? As a seasoned homebuyer, it's important to keep up with the shifting market trends in order to secure a successful transaction.
What Does the Shifting Market Look Like?
In May 2022, Realtor.com released some housing data that revealed some major turning points in the market. In terms of inventory, the data shows that the number of active home listings entering the market is higher than it's been since 2019. Nationally, the inventory of active home listings has increased by 8% over the past year, amounting to 38,000 more active home listings compared to May 2021.
That said we're not seeing that shift directly in the foothills yet. In fact we have very similar inventory to a year ago: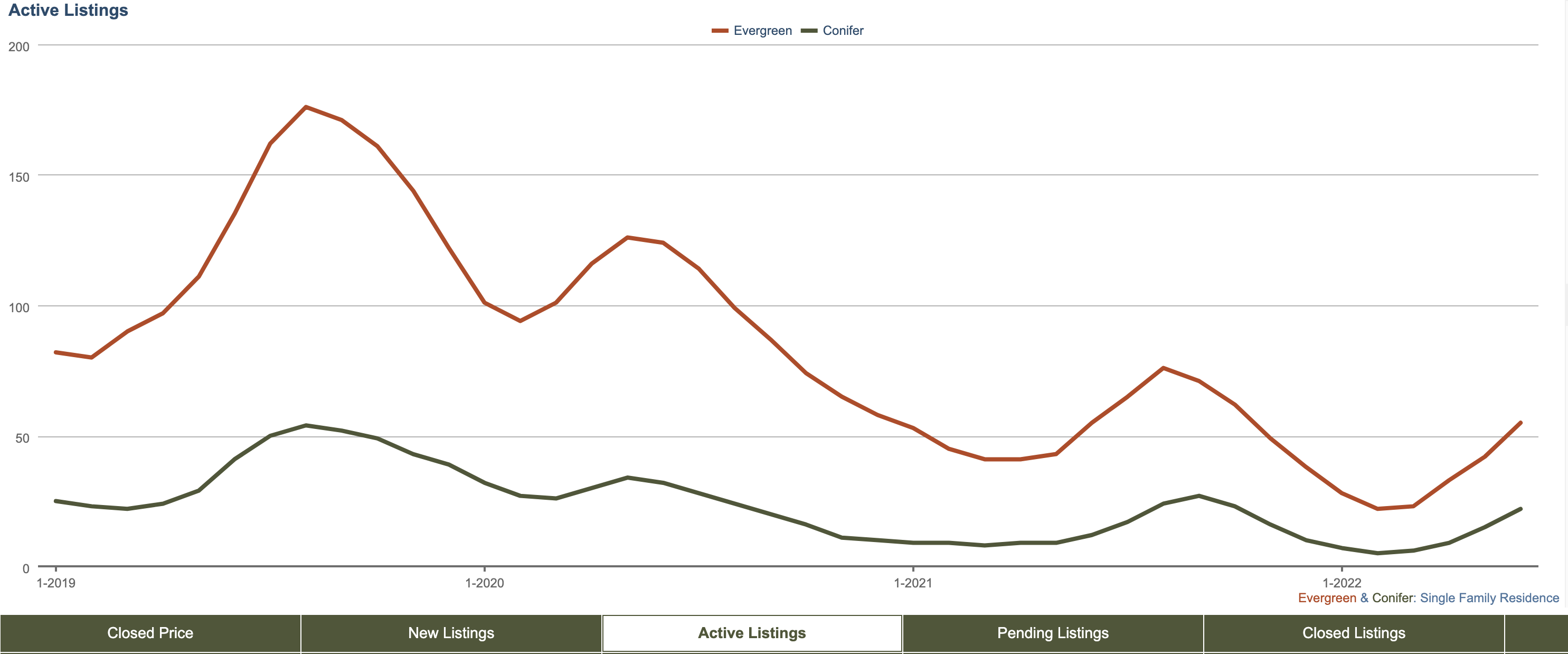 But the writing is on the wall and as affordability continues to decrease we'll see inventory and days-on-market climbing. While having more homes on the market is good for buyers, homes are still spending less time on the market compared to last year, and home prices are still rising. The market is definitely shifting, but not necessarily in a buyer's favor just yet. Interest rates are continuing to rise. These rising interest rates coupled with all-time high listing prices have increased the cost of financing 80% of the typical home by 48% compared to a year ago.
Tips for Navigating Market Shifts as a Buyer
In addition to partnering with a local, expert real estate agent, utilizing the following tips can help first-time homebuyers better navigate continued market shifts.
Know Your Budget
With rising mortgage rates and increased home prices, it's essential to do your homework and plan what you can truly afford in advance. In a seller's market, you should be prepared to pay the asking price. However, it is essential that you make buying decisions based on your finances and not on your emotions. Just because you can financially afford to pay over the market value of a home doesn't mean that you should or that it's in your best interest over the long term.
Get Preapproval From a Trusted Lender
Along with having a thorough understanding of your budget before buying a home, you should obtain a preapproved loan with a trusted lender. Getting a preapproved loan signals sellers that you are a serious buyer, and it may even gain you access to earlier showings ahead of other buyers.
Be Flexible and Patient
A final tip for first-time homebuyers navigating today's market shifts is to be flexible and patient. There will undoubtedly be ups and down on your homebuying journey, especially with today's market and continued market shifts. While there will be ups and downs, just remember that buying a home is still within reach, and when in doubt, always reach out to Bob for help.
Tips for Navigating Market Shifts as a Seller
While the market is shifting, it's still an ideal time for sellers. The following tips will help you get the most out of your home selling experience.
Work With a Trusted Local Real Estate Agent
Even during a seller's market, it's important to work with a local expert real estate agent when listing your house. A local real estate agent will be able to give you the most up-to-date information on the market, navigate stressful contracts, and help you get the best price for your property. As the conversations change regarding real estate buyers are more and more anxious about paying top dollar for homes. What I've seen lately is that it's less likely that buyers will blindly leap for a home. Offers and due diligence are more guarded and buyers want reassurances that they're not overpaying and not accepting homes that haven't been properly prepared for market.
Prepare Before Putting Your Home on the Market
In addition to working closely with a neighborhood expert, it would be to your benefit to have a pre-inspection completed on your home before you list it on the market. Having a pre-inspection can save you a ton of time, headaches, or delays down the road.
The best way to navigate and stay on top of these market shifts is to work with Bob-- an agent who you can trust. Bob's completing transactions in Evergreen and Conifer all the time and is a student of the marketplace. He's the ultimate guide to having the best real estate experience in the Foothills.
Let's Talk →