Pros & Cons of Listing Your Home in the Winter
"It's the most wonderful time of the year," to sell?
Despite homes being covered in snow and icy roads galore, winter is a great time to sell your home! Or is it? Just like with any season, there are pros and cons to selling your home. If you've been contemplating whether you should list your home now or wait until the snow melts away, I made a list of everything you should take into consideration.

Buyers mean business
While more buyers are looking in the spring and summer, there are more serious buyers in the winter season. If someone is making time to visit open houses and showings during the busiest time of the year (and the coldest time of the year) they are more likely to be serious about their search.

Less competition
A lot of people will wait until spring or at least Super Bowl to list their home. This means the housing inventory is much lower right now, leaving less competition for sellers.

Online house hunting is year-round
As Dave Ramsey says, "the internet has no seasons." Since most people would rather be cozied up on the couch in the winter, making sure your home has a good (really--the best) online presence is very important. Most buyers will start their search online before in person. In fact my listings right now are getting terrific visibility on Zillow, Facebook, Trulia and REALTOR.com.
Look at this visibility that Lynx Lair had last week: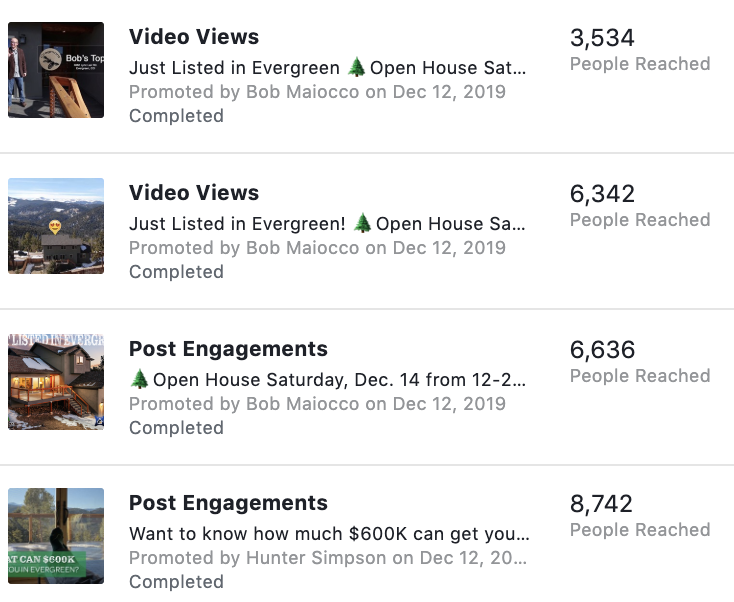 .

More time off = more time for buying
You might think that being the busiest time of the year that people would be too busy to stop by and look at your house. But, people tend to take more time off work around the holidays leaving more time to search for their new home. The three-day weekends in January are also popular weekends for open houses and showings.
.

Curb appeal is limited
When the sun sets at 4 PM and your beautiful lawn is covered by snow, it's a lot harder to show off your home's exterior. Although you can add some festive decor like a wreath to your door, you can't show off any of the hard work you've put into your curb appeal.
.

Buyers have limited budgets
As we wrap up the end of the year, a lot of people are tied up with other financial obligations such as holiday gifts and traveling, paying taxes, and making sure their own houses and vehicles are winter-ready. This may cause a lot of buyers to not want to invest in a home at this time of year.

Fewer offers for less
Sellers tend to find themselves with multiple offers in spring and summer when buyers have more competition and need to be quick to make offers. In the winter, it's less likely that sellers will have multiple offers. Buyers may even think that winter sellers are desperate for any offer at all, causing some to lowball their offers. Although, that false premise is easy to resolve. Ask me and I'll share how my clients avoid this.

"Show-ready" means more effort
You know that one friend who always makes you take your shoes off before walking through the house? Well, you may find yourself being that person now… To keep your home show-ready during the winter, you'll need to minimize the amount of snow and slush people bring through the door and will need to keep up with putting away the wrapping paper and holiday prepping that you're doing yourself. You'll also end up plowing and shoveling the driveway and walkways for visitors more often.